BESPOKE ENERGY MANAGEMENT MEASURES FOR FLEET
Matthews Coaches
Matthews Coach Hire is a road passenger transport provider based in the North East of Ireland. Matthews provide commuter services, private hire, tours and corporate hire. See www.matthews.ie
As a passenger transport provider the biggest cost to Matthews Coach Hire Ltd is fuel. After experiencing a 30c/litre cost increase in 2007, and as fuel prices continue to rise (50% in last 3 years): Matthews have pro-actively invested in technology and people to drive down fuel usage in L/100km, increasing efficiency and reducing emissions per passenger kilometre.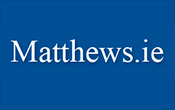 Project description
Train lead driver as ecodriving coach to mentor and lead other drivers in fuel performance improvement.
Funding
Funding was discussed and agreed with Enprova to train the lead driver in ecodriving skills, communication and coaching all other Matthews' drivers.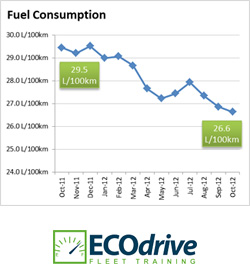 Summary
The impact of this project to date can be clearly seen in the graph right and amounts to over 40,000L of fuel or 423,295 kWh in primary energy savings (107 tonne CO2e).
Partner
Enprova partners with trusted, local, established, independent consultants, trainers and suppliers from communities all over Ireland. Matthews partner: www.ecodrive.ie.